Return to Headlines
03.25.2021 Spring Break Reminders

Good Afternoon SDFA Families,
Happy Spring from the SDFA Health Team! We are appreciative of everyone's efforts to date to keep our students, staff, and families safe and healthy and hope you have a relaxing, rejuvenating break!
The combination of the return of students to buildings, the anticipation of in-person events such as prom, DARE graduation, high school graduation, and more, availability of vaccinations, and county numbers remaining low, can create a false sense of security that Covid is a thing of the past. However, the Covid-19 virus is still very real and in recent weeks has required us to quarantine a number of individuals as well as full classrooms. We urge you to maintain safe and healthy practices throughout this break and the remainder of the school year to ensure that we can continue to learn in-person and allow for us to look forward to celebrating milestone celebrations together.
Schools were able to successfully reopen (and remain open) due to layered preventative measures including:
Wearing of face coverings at all times,
Appropriate social distancing in classrooms and common spaces,
Providing plexiglass barriers to serve as visual reminders to stay distanced,
Cohorting student groups whenever possible,
Limiting use of shared materials,
Frequent sanitizing of spaces and materials,
Daily deep cleaning of classrooms and common spaces,
Frequent hand washing/sanitizing.
These mitigation strategies will remain in place as we resume instruction after spring break. The CDC has recently made some minor changes to these practices which we will put into place accordingly.
During break, the SDFA Health Team asks you to continue to report all Covid-19 tests that are positive, quarantine, and isolation information, and all ongoing symptoms that your child may have over break. Please call the schools attendance line and follow the prompts to help us maintain updated records and allow all students to return to school safe and healthy on April 5, 2021.
Daily monitoring of symptoms will be important to make sure students and staff come to school healthy. Symptoms of Covid-19 include:
Temp of 100.4 or higher
Cough
Vomiting
Diarrhea
Unusual or new rash
Sore throat
Headache
Body or muscle aches
Chills
Congestion
Loss of taste or smell
Exposure to someone who tested positive in the last 14 days
If your child is experiencing any symptoms related to Covid -19 please contact your health provider, keep them home and report symptoms to your child's school.
Wishing you a very happy and healthy Spring Break!
Sincerely,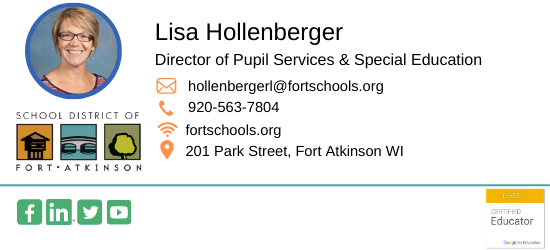 ---
Familias del SDFA
¡Feliz primavera de parte del equipo de salud de la SDFA! Apreciamos los esfuerzos de todos hasta la fecha para mantener a nuestros estudiantes, personal y familias seguros y saludables y esperamos que tengan un descanso relajante y rejuvenecedor.
La combinación del regreso de los estudiantes a los edificios, la anticipación de eventos en persona como el baile de graduación, la graduación de DARE, la graduación de la escuela secundaria y más, la disponibilidad de las vacunas y los números del condado que permanecen bajos, pueden crear una falsa sensación de seguridad de que el Covid es una cosa del pasado. Sin embargo, el virus Covid-19 sigue siendo muy real y en las últimas semanas nos ha obligado a poner en cuarentena a varias personas, así como a aulas completas. Les pedimos que mantengan prácticas seguras y saludables durante este receso y el resto del año escolar para asegurar que podamos seguir aprendiendo en persona y permitirnos esperar a celebrar hitos juntos.
Las escuelas pudieron reabrirse con éxito (y permanecer abiertas) gracias a las medidas preventivas en capas que incluyen:
El uso de protectores faciales en todo momento,
Distanciamiento social adecuado en las aulas y espacios comunes,
La colocación de barreras de plexiglás que sirvan de recordatorio visual para mantener la distancia,
Agrupar a los estudiantes siempre que sea posible,
Limitar el uso de materiales compartidos,
Limpieza frecuente de los espacios y los materiales,
Limpieza profunda diaria de las aulas y los espacios comunes,
Lavado y desinfección frecuente de las manos.
Estas estrategias de mitigación se mantendrán cuando reanudemos las clases después de las vacaciones de primavera. El CDC ha introducido recientemente algunos cambios menores en estas prácticas que pondremos en práctica en consecuencia.
Durante las vacaciones, el equipo de salud de la SDFA les pide que sigan informando de todas las pruebas de Covid-19 que sean positivas, de la información de cuarentena y aislamiento y de todos los síntomas que su hijo pueda tener durante las vacaciones. Por favor, llame a la línea de asistencia de la escuela y siga las indicaciones para ayudarnos a mantener los registros actualizados y permitir que todos los estudiantes regresen a la escuela sanos y salvos el 5 de abril de 2021.
El control diario de los síntomas será importante para asegurarse de que los alumnos y el personal acuden a la escuela sanos. Los síntomas de Covid-19 incluyen:
Temperatura de 100.4 o más alta
Tos
Vómitos
Diarrea
Erupción inusual o nueva
Dolor de garganta
Dolor de cabeza
Dolores corporales o musculares
Escalofríos
Congestión
Pérdida de sabor u olor
La exposición a alguien que dio positivo en los últimos 14 días
Si su hijo experimenta algún síntoma relacionado con Covid -19, póngase en contacto con su proveedor de salud, manténgalo en casa e informe de los síntomas a la escuela de su hijo.
Les deseamos unas felices y saludables vacaciones de primavera.
Sinceramente,